It's not going to be long now before super-stud Paddy O'Brian takes over the spot of 'most movies made for a network.' With 56 hardcore scenes now under his belt he's catching up with some of the other exclusive Men.com models, in fact he is currently ranking third, with only Colby Jansen (69 scenes) and young Johnny Rapid (122 scenes –gulp!) ahead of him. That goes some way to showing how popular this Brit boy is. And I know he is a British porn model because of his accent. At the start of this scene, 'X Confession' he firmly states that you either love him or hate him, you either love his accent or hate it. You need to listen, when you head over to Gods Of Men in a moment (which I highly recommend you do) and check him out. I'd say it was South London – the accent I mean – possibly Essex, but definitely south of England and with a London bias. Close your eyes and think of England!

So, in this scene Paddy appears with Goran. Now, Goran is a hardcore porn guy who pops up in these movies from time to time. He's appeared in four in 2012 and three in 2013, and two in 2014. Looks like he may only appear in one next year, if the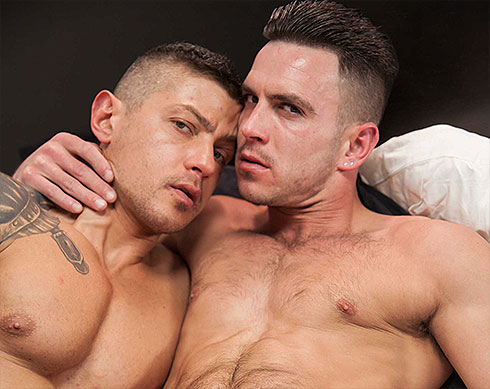 law of diminishing returns works out. Let's hope not 'cos we can't get enough of this grey haired, blue eyed, uncut stud. And actually, the fact that he hasn't made that many movies is kind of fitting. This scene 'X Confession' comes from the Men.com site, 'Gods Of Men' and they only make movies for that site when there are movies worth making. By which I mean, when there is hot chemistry and when there are hot models available to make them.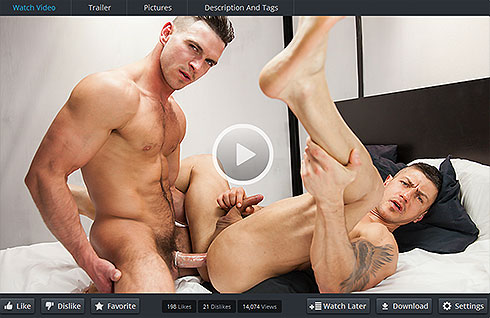 And sure enough, we have the hotter than hot Paddy O'Brian (who we love by the way; I mean, what's there to hate?) and the super studly Goran in a dreamy, sex-only movie that has no intro apart from some talk from Paddy. That's the love me or hate me intro, and it is voiced over the two hunks kissing tenderly. Another thing that GOM does well, it takes hunky hardcore guys and puts them together in dreamy, erotic and sensual movies, a nice contrast leading to hot scenes. The guys here are still kissing and exploring each other's bodies while taking breaks for Goran to go down and suck on Paddy's hard cock. In fact Goran uses his month to explore most of Paddy O'Brian as he licks his shaft, his nuts, and then trails his tongue down and around his ass. Paddy is man enough to live out his deepest fantasies, and being fucked by this hulk is one of them, so he offers up his ass willingly.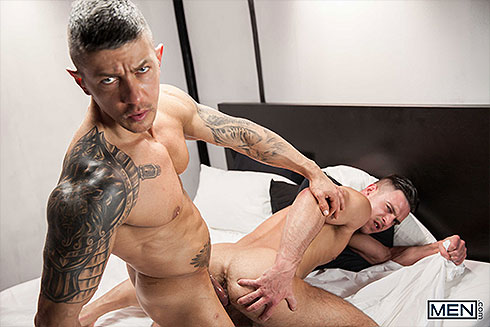 click here to learn how to stream 1330+ gay videos for only $1
He's also a pretty vocal star so you gets lots of erotic grunts and groans, murmurs of approval and gasps as Goran licks him, and sucks him and then finally penetrates his British ass. Paddy's in the classic missionary position at the start of this ass-fuck section of the movie, but soon moves into other positions. We travel around their bodies as the two guys fuck and buck and then, much later, swap roles. It looks like Goran is not as used to taking dick in his ass as Paddy is as Paddy O'Brian fucks him slowly, carefully almost, and doesn't drill him all the way in, so as not to split him. But the other guy does soon give way and the feeling of that hard British cock in his as soon brings him to orgasm. Paddy cums too and the scene finishes back where it started: Paddy O'Brian and Goran kissing.
click here to learn how to stream 1330+ gay videos for only $1