It was just over one year ago (as I write) in December 2013 that Jace Tyler appeared on our screens. He made his debut in a Gods Of Men movie, 'Early Riser' alongside, and underneath, Eric Star. Since then he's gone on to make a few other movies with Men.com (and possibly elsewhere) and has appeared with Gabriel Clarke a couple of times, and a few other of the top models who work for this outstanding network. But so far he's not really played with the big guns, he's not been set up with any of the huge names, that is, until today. Here he is in a scene with the legend Paddy O'Brian and it's a hot one, and it's from Men Of UK.

And it is part of 'The Abbey' series, episode three (season one?). This series is set among the high-class, upper-class, upstairs and posh of good old Blighty, and plays out the inter-class stories perfectly. There are under stairs butlers and footmen having shady pasts to share with the tight lipped, tight-assed upper class above stairs, the younger and sexy lords of the manor. And there is all the sexiness that comes from the tight-back butler's outfits, the sexy and good looking British boys fresh from public school, and the sounds of the accents.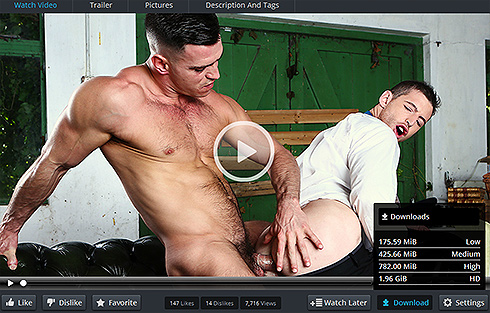 The Abby part three starts with 'Stephen' the eldest son of the lord of the manor, being driven by his chauffeur, Tom, played by Paddy O'Brian. It's a bit out of the blue but Tom is in favour of same sex rights and social equality, and starts calling the young master Stephen, which leads to him calling him Tom and the two guys bond. That comes in handy as, a little later, Jace Tyler comes to find Paddy O'Brian in the garage after dinner (where his talk of same sex rights didn't go down well apparently). Paddy is topless as he cleans the car and, when he puts his hands on Jace Tyler, this scene changes. But it can't happen! Not only is it wrong for two men in this period to be together (see E.M. Forster for the real deal) but it's across the classes. But hey! It's equality all round when the guys start to grapple with each other and the flood gates of sexual repression are opened up.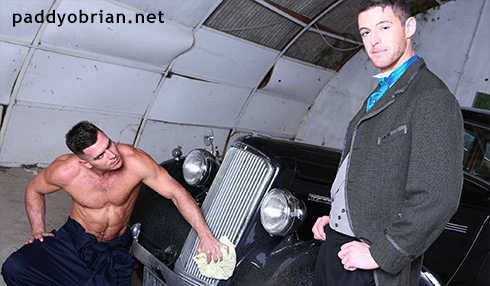 click here to learn how to stream 1330+ gay videos for only $1
And so it all comes pouring out for Jace Tyler and Paddy O'Brian. Class distinctions are forgotten, as the guys grasp each other's hard cocks and the young master goes down on the chauffeur. And then the chauffeur becomes bolder and takes more liberties and starts to explore the lord's ass and, before we're even half way through the runtime of this wonderful fantasy, Jace Tyler is getting right royally butt-fucked by the London lad, Paddy O'Brian. He's got his bent over in the garage, he's fucking his ass and slapping his ass cheeks, the young master still in his white dinner shirt. But you can tell Jace Tyler is loving this, his cock is rock solid, all eight inches of it as he rides Paddy's pole on the Chesterfield and the two guys sweat and grunt their way through so many different positions.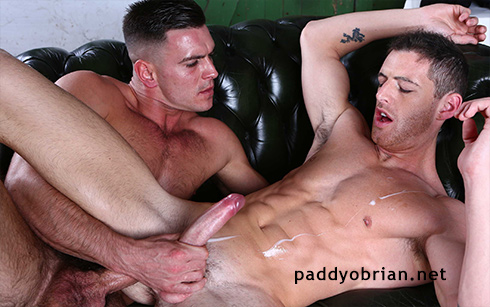 They break off every now and then so Jace can suck wildly on Paddy's cock some more; it's like the upper class can't get enough of the working class dick. And then they fuck some more, and things get wild and loud and non-stop until Paddy pulls out and dumps his load on Jace. Jace Tyler can't hold back either and, grappling with his cock as his balls ride up, he shoots a thick wad over himself. 'The Abbey' is turning into one hell of a hot series; don't miss it!