Men of UK are going for a threesome in the third part of 'Forbidden' their on-going series about things that should definitely not go on in the confessional at church. Actually, things don't happen in the church but in the nearby stores and warehouses where the naughty Father takes his young men to help them with their sexual problems. In this series it's the UK's number one porn model, Paddy O'Brian, who takes the lead as the frolicking father and in this particular episode he is joined by Tony Milan and John Fink.
We saw Tony Milan in part two of this series not so long ago. He's the Italian looking guy with tanned skin, a great physique and a neat seven and a half inch uncut cock. But who is John Fink? He's a new guy to the site and this is his first video. He's also got tanned and dark looks and a very impressive cock, he's also uncut and he also has brown eyes so he and Tony have a few things in common. And as for Paddy O'Brian, well, he shouldn't need any introduction. He's made 61 scenes for Men.com and has been working for them exclusively for over two years now, starting off in June 2012 with Isaac Jones in a scene for Men Of UK; he has appeared on various other sites for Men.com too, and is one of their more regularly appearing models.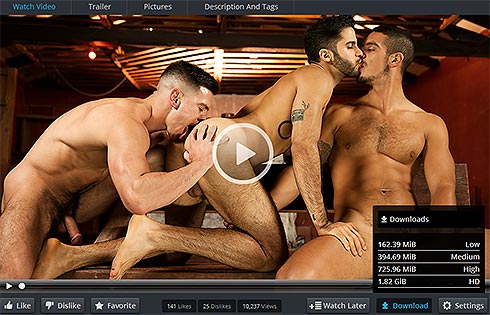 Now then, if you saw 'Forbidden part 2' you will remember that while the hot hardcore action was going on inside the warehouse, there was a guy outside looking in and we had no idea who he was. Well, it looks like that might have been John Fink, and when part three starts there's another guy outside the warehouse sneaking about. But that's not John Fink, he is already inside with Paddy and Tony and, when we make an entrance, the guys are already feeling each other up. Paddy is clearly in charge, he's in the middle of a three-kisser sandwich and he's the first to start undressing. Here comes that toned chest of his, that flat stomach and here come two pairs of hands to explore it. Slowly, bit by bit, the trousers come down and those hands start to explore more intimate paces. And all the while there's the voyeur outside looking in and now starting to play with his own cock; but we still can't see who it is.
Before long, inside, we've got all three guys naked with Paddy O'Brian checking out the hot ass of Tony Milan while he pays lip and mouth attention to the rock hard cock of John Fink. The threesome is well underway when Paddy and John swap places and Tony gives some of the lush head action to Paddy while John eats out his ass instead. But Paddy is the boss, and so he is the first to get to slide his rigid pole into Tony Milan's hot hole, and from then on it's a case of hard fucking while Tony is bent over the bench and John Fink is fucking his mouth. Things heat up and move on, they get louder, and faster as Paddy then fucks John Fink while he sucks on Tony Milan's cock.
The two guys take it in turns to ride Paddy O'Brian's famous dick, one after the other sitting on it and taking its full length into their asses. And meanwhile, still outside and looking in, we find out who our voyeur is. It's none other than new twink on the block Jake Bass (check out 'Men of Anarchy part 3' for his debut). He's there up at the window watching as the hunky guys inside start to shoot their loads into each other's mouths and over each other's bodies. That leaves us wondering if sexy twink Jake Bass might be appearing in part four. I guess we'll have to wait and see.

click here to learn how to stream 1330+ gay videos for only $1