Those lazy days of summer eh? What better than to lounge around in your bathers, by the sea, with a few friends and a cold beer. What's better? How about being aboard a speed boat cruiser, at sea, off the coast of Ibiza and being alone on the boat with top porn star Paddy oBrian and hunky newcomer Abraham Al Malek. That, I would say, would boost anyone's summer holiday. Well, that's where we get taken in today's scene from Drill My Hole. You might remember a few days ago we saw Men In Ibiza (part 1), here we have part two and it features those two hunky stars. Paddy, as we know, has made loads of movies for Men.com and has appeared in some of their series. Abraham is newer to the company and this is his third scene. He has already appeared in 'Gay Of Thrones' and made his first huge splash in 'Hotel X' last year. So, both guys know what they are going.

This scene starts pretty simply but with nice atmosphere as Abraham is driving his power boat out at sea. Paddy is lounging on the bench, in the shade and the day out there, even at sea, is hot. Within less than two minutes though these hunky studs are admiring each other and, without a word being said, they start tenderly missing. They know what each other wants, and they know how to give to each other. As the boat bobs and rolls on the sea their kissing leads to a deeper exploration of what is now bulging out in Paddy's tight trunks.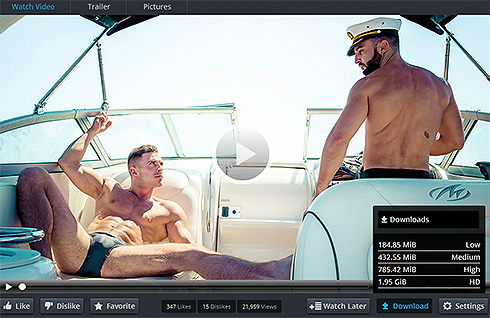 Paddy fans know that what is in there is his rock hard seven inch cut cock, and, as always, it's ready for action. Abraham wraps his bearded mouth around it and works it down deep and long before stripping Paddy's briefs from him and exploring his ass. He rims and fingers Paddy's ass, finding it tight but willing. (oBrian is mainly a top.) And then, after a little work, it's ready for Abraham's seven and a half inch, uncut dick. He gives Paddy's ass a nice long ramming, and the guys take up various positions to ensure we get some great shots of the once-top now servicing the new guy with his hole.
In fact, for a top, Paddy turns in a wonderful performance here and seems quite at home with every conceivable position, always giving Abraham pleasure, and always with a look of ecstatic disbelief on his face. There are two manly cum shots for you at the end and Paddy's drops his load into Abrahams' beard as the boat, we assume, heads on out to sea. This scene gives a whole new meaning to the word sea-men that's for sure.

click here to learn how to stream 1330+ gay videos for only $1