'The Day Before Part 1' is just one of the latest hardcore gay porn movies that has been filmed and released by 'Drill My Hole.' This movie stars Brenner Bolton an all exclusive star to the best gay porn online site, and Paddy O'Brian who are both internationally famous.
The Porn Stars In This Episode
Paddy O'Brian is about the best thing to come out of the UK. He was bought up fighting in the streets and knows how to handle himself. He has been classed as the 'Vinny Jones' of porn, but he can also be quite a charming young man. He is a straight dude, which means watching him makes it all that much better as so many of us fantasize about getting a straight man into bed.
He has a handsome face and a well-toned body with a great six pack. He is five feet eight inches tall with short brown hair and sexy hazel eyes. He is an eager top with a seven inch cut cock which loves to slam as hard as he can into a tight butt.
Paddy has starred in 89 hardcore movies for this adult gay site which includes the popular 'Men In Ibiza' series parts 1, 2, 3 and 4' and the 'P.O.W' series, and all those episodes have all been released by 'Drill My Hole.'
Brenner Bolton is another great star who seems to have a constant erection and a tight asshole that loves to be rimmed and drilled as deep as anyone can go. Brenner is six feet tall with an athletic smooth body, brown hair and sweet hazel eyes. He is versatile with a six-and-a-half-inch uncut cock. He has starred in 22 hardcore movies for the website, and in his last movie released by Drill My Hole he bent over, and got his ass drilled hard by Diego Sans in 'Double Timing Husband.' Brenner also likes it a bit kinky, but doesn't really mind as long it's sex.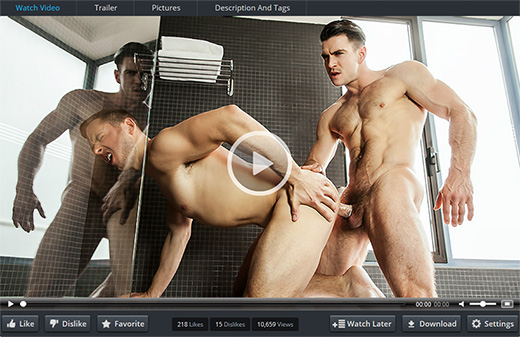 What is the paysite Drill My Hole all about
Drill My hole is part of the network and has 678 hardcore movies to offer us. These men are hot and horny and are gagging for a hard cock dripping with cum, or a juicy tight asshole ready to be fucked, and sometimes to be punished. These bad boys want it so bad, that they will do almost anything for sex. Drill My Hole is full of high quality movies with some of the best porn stars around today. Some of the men are real hunks, like Paddy O'Brian who want to top any bottom that comes along, or like Johnny Rapid, who has been fucked more times than most people have had hot dinners.
The story of the movie
'The Day Before Part 1' is all about what really goes on when two porn stars meet for the first time the day before doing their next porn movie together.
There is a knock at the door, which Brenner Bolton opens. It's paddy O'Brian, the guy who is going to fuck him in front of the cameras tomorrow. Both men are in a good mood and happy to be there. They have just arrived, and are hungry for a meal, and some hot man on man sex. They both admire each other they suggest that they have a practice run before tomorrow's big day.
They move towards each other, and their soft wet lips meet in a passionate kiss as they embrace in the bathroom. Brenner acts like the fuck slut he has become and quickly strips paddy naked. He kisses Paddy's chiselled chest and hard nipple. He takes his own top off as he bends over and takes Paddy's seven-inch, thick cock into his mouth and starts sucking. He soon has Paddy groaning out deeply as he deep throats his cock, and Paddy face fucks him back.


Brenner then goes over to the bathtub and bends over with one leg up on the bath, and the other on the ground. Paddy, who has never turned down any hole, probes his smooth asshole with his tongue. The camera goes underneath and we get a great close up of that tongue licking Brenner's sweet, tight ass. Brenner moans out now with excitement as Paddy finger-fucks him between licking him.
Paddy stands up, and we watch as he rolls on a condom which is exciting as we know where that cock is about to go. Brenner moans out louder when he feels Paddy's dick push past his wet rim and deep into him as he begins fucking him.
All though Paddy is a top, when Brenner sits down on the side of the bath, he straddles Brenner's cock and rides him hard and fast. He strokes on his meaty cock franticly as Brenner meets him thrust for thrust.
Paddy sucks on Brenner's cock for a while, then they stand up and Paddy drills Brenner's ass again. This time Brenner Bolton cries out, and the camera zooms in as his cum shoots out into the bath. Paddy O'Brian gets in front of him and covers his handsome face with sticky hot jizz.