'Men Of UK' have got one of the most exciting thrill rides of a hardcore porn movie around, it's bought to them by Men.com. This is the third episode with an exciting storyline as well as amazing sex scenes, and as usual the quality is of the highest standard, with the best sound. It is starring Paddy O'brian, who is exclusive to Men.com, and it's introducing Dakota Vice.

Paddy O'Brian has got that kind of shredded body that everyone is after. He is a lean mean fighting machine with great natural acting abilities and a seven inch cut dick that seems to be forever hard. When Paddy isn't fucking a nice bit of tight ass, he still thinks about it and takes things into his own hands. Paddy is an exciting top with short brown hair and hazel eyes, and is five foot eight inches tall and weighs 165 pounds. Paddy O'Brian has been in sixty six hardcore flicks with Men.com including the popular 'P.O.W' episodes parts 1, 2, 3 and 4 which have been seen by over an incredible 120,000 members.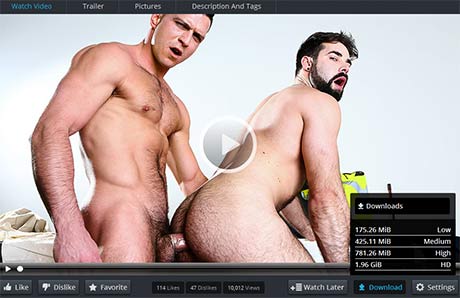 Dakota Vice is a fit, hairy bear of a man with dark fur all over his tight body. He is a versatile bottom with a seven inch cut cock. He has brown hair with sparkling green eyes. He is five foot nine inches tall and weighs 175 pounds. This is his first hardcore flick and he is happy to try anything or anybody at least once or twice.
The opening scene of this episode is fast, furious and action packed.
Paddy O'Brian wakes up next to Alexis Belfort
, an old friend he fucked the night before. The reason he is there is because his old boss, Eric, has told him to go there until he needs him. Eric is a fearless boss of a hard, criminal gang and was partly responsible for Paddy being in jail for six years.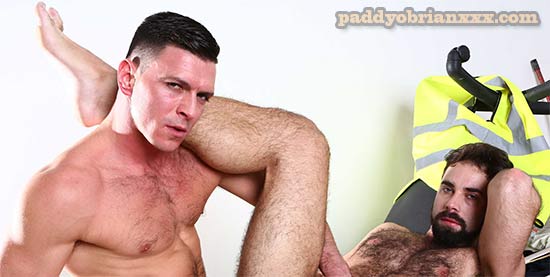 Paddy asks Alexis who he was on the phone to last night. Alexis doesn't answer and goes to open his door. Paddy pulls out a gun and gives Alexis a warning not to come any closer. Alexis moves and Paddy shoots him dead. He realizes he is in trouble and makes a run for it. Three masked men, who have been sent to kill him, run after him.
Paddy shoots two of the men dead and pulls the mask off the third man. It's another of his old work colleagues, Dakota Vice. With a gun facing him, Dakota Vice tells Paddy that it was Eric who sent him there to kill him. Paddy threatens him and grabs his cock at the same time. They move into another room and start to kiss.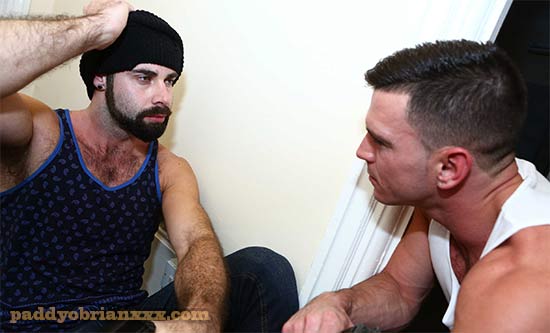 Dakota goes down on his knees and sucks Paddy O'Brian's hard dick as Paddy thrusts it backwards and forwards between his lips. Paddy turns Dakota around and bends him over. He spreads Dakota's hairy ass cheeks apart and spits right onto his tight crack a few times. He stands back up and tells Dakota to get his ass ready for him while he rolls on a condom. Dakota fingers his slippery hole and gets himself ready.
Paddy slides his cock all the way in without any problem
. He drills his tight hole hard and fast making Dakota moan out with excitement. They change positions and Dakota uses three fingers to fuck himself whilst Paddy watches.
After Dakota sucks on Paddy O'Brian's cock for a while, Paddy fucks him in the missionary position. Dakota can't hold back and spills his spunk on his stomach. Feeling himself close to cumming, Paddy moves up to Dakota's chest and jerks on his cock until he sends streams of his sizzling hot spunk all over his dark fur.
After they have finished Dakota Vice tries to tell Paddy to stay away from Eric, but Paddy isn't having any of it. He wants his revenge, and he will get it, even if it kills him…