Here's a fantastic exclusive from Men dot com made for 'Men Of UK.' In part 1 of this thrilling series, Paddy O'Brian has been released from jail. He gets picked up by Bruno Bernal who is an ex-cop and is told that they are going to get revenge his old boss, Eric. Paddy likes the sound of it and goes along with the idea but before he does, he and Bruno have sex in a shabby apartment.
The second episode starts off with Paddy O'Brian lying down on the bed just after having sex with Bruno Bernal.

He is feeling good after having his first fuck in years. The smell of fresh man-cum still fills the air when Bruno pulls a gun on Paddy telling him he wants to renegotiate his 60-40 split. Paddy O'Brian stands up and tells Bruno it's not going to look good with a dead ex-con in his flat. Bruno tells him he still wants to renegotiate the deal. Paddy manages to take his gun away from him; they calm down and go to a pub where they see Eric and his henchmen getting nasty with the owner. Paddy speaks quietly to Eric and before you know it, the henchman shoots Bruno right in the head. Eric welcomes him into the pack and tells him to get over to Alexis Belfort's pad and have something to eat.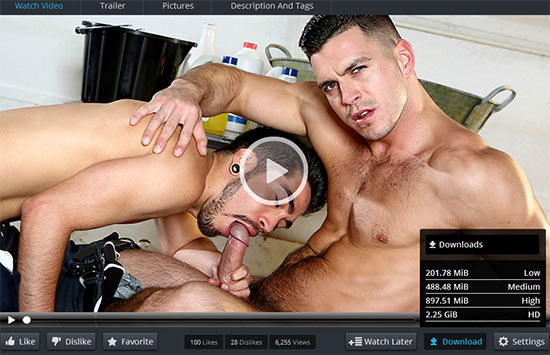 Paddy O'Brian is one of the top exclusive men for Men.com and it's not hard to see why. He has an amazing strong body with handsome looks, and that's not forgetting his sexy London accent. He has been in an amazing sixty five movies with Men.com which include the hot series 'The Abbey parts 1, 2 and 3' and the popular 'Howl' series parts 1, 2 and 4, amongst many others. Paddy is a top with a seven inch cut cock. He has short cropped brown hair and hazel eyes. He is five foot eight and weighs 165 pounds.
This is Alexis Belfort's first hardcore flick with Men.com but he starts off with a great partner. He has an athletic body with sultry good looks. He is a versatile bottom with a seven inch uncut dick. He is five foot eight with black hair and brown eyes.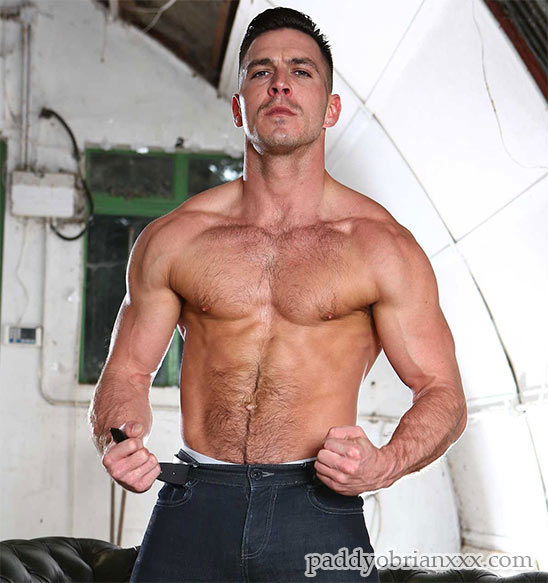 The next scene in this amazing movie has Paddy O'Brian finishing off his takeaway whilst Alexis Belfort carries on working next to him. Paddy asks him if he has a partner yet and tells him to come down and sit with him. He tells Alexis that he has missed him, he puts his hand on his leg and tells him to come closer. Paddy starts to kiss him gently and peels his top from him.
This may be Alexis Belfort's first hardcore movie but he has certainly sucked a lot of cocks before, you can tell. He gets Paddy moaning with pleasure almost straight away as he goes down and starts to give him a mind-blowing blow job. Paddy fucks his mouth back as Alexis strokes on his own cock.
Paddy pulls Alexis' pants off him and, as Alexis lays down on his front, Paddy slaps his ass and fingers his tight asshole. He slaps his asshole with his cock, getting Alexis excited about what is to come, and then he slides it all the way in. The room is hot and they start to moan out with animal lust as Paddy drill's his crack harder and faster, doggy style.
Paddy O'Brian fucks him till his asshole is red raw and he spills his pearly white cum over his body. Paddy moves up and kneels in front of Alexis Belfort's bearded face. He jerks himself off, cumming all over his face.
The next scene shows Alexis phone ringing. He answers it but doesn't say anything to Paddy. It's Eric, Paddy's old boss. He tells Alexis that he feels something dodgy is going on with Paddy so he's sending a few men around his house to sort him out…
Don't know about you, but I can't wait to see the next episode to see what happens to who, and to find out who will be the next one to get fucked by Paddy O'Brian.