Here's yet another great hardcore movie from 'MOUK Men of UK.' They roll out one great movie after another and this is no exception. This is one everyone will be able to get to grips with. It's a fantastic horny trip down memory lane. How well, and why, can you remember the best sex of your life? For Paddy o´Brian is obvious why he remembers his best time. It just might have been yours too, if you had been to the gym that day.
Paddy o´Brian. If you are an avid watcher of 'Men of UK' productions (and if you aren't, I am certain you soon will be after watching this, and many more, of their flicks), will remember his red hair, beard, and muscular street look. You will also remember when tattooed hunk Johnny Hazzard made him moan with excitement as he sat on his six and a half inch cock, in 'Men Of Anarchy part 2,' though he has made many other horny movies too.
In this one, Paddy o´Brian is working out on the gym when he can't but help notice the flexible, hot Columbian Mark Sanz doing some seriously hot yoga stretches behind him. If you have seen Mark Sanz before you will not have forgotten him, I'm sure. He is the handsome young hunk from 'Hard Knox' parts 4. Older men get a crush on him wherever he goes, and younger men just want to be him. It's not surprising considering he has these college-boy looks, a smooth muscular chest, and an uncut seven inch dick, oh, and that extremely fuckable tight ass.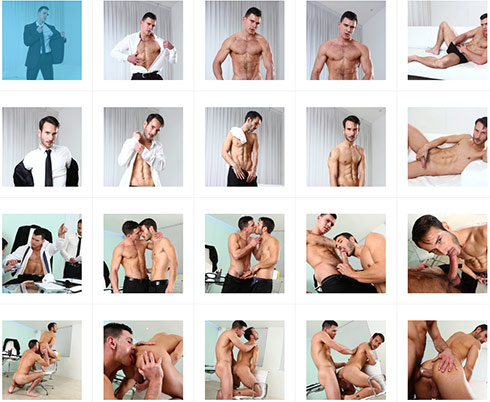 Paddy o´Brian finds it hard to concentrate as he watches Mark Sanz shoving his firm ass up in the air with his nose to the ground, doing his 'downward dog' poses. It doesn't take long before Paddy can't concentrate on what he is doing. He quickly gets an aching erection, and needs to do something about It. Mark Sanz sees him looking at him, and looks into his beautiful blue eyes. They smile at each other, and feel they have connected, and so soon go back to Mark's house for some fun. And here's where they find out exactly how flexible each other really is.
These two are like a couple of acrobats once they get going. Paddy o´Brian balances Mark on his hands and knees. Mark bends over backwards and they begin to kiss each other's hungry wet lips. Paddy then does a perfect balance on his head, whilst Mark pulls his shorts from him, gets down on his knees, and sucks on Paddy's hard cock where he takes it all the way to the back of his young throat. His cock sucking is so good that Paddy can't keep balanced any longer. He stands upright and let's Mark's sweet tasting lips wrap themselves eagerly around his cock once more.
This movie gets hotter and hotter as it carries on. Young Mark continues to prove how flexible he is by bending right over as Paddy pulls his tight shorts down. Mark, still bent over, pulls his arms around the other guy so Paddy can poke his wet tongue deep into his tight, sensitive crack. They both moan and groan in heated excitement as he soaks it with his saliva, and then slides two fingers straight in without any resistance.
Staying bent over, Mark tells Paddy o´Brian to fuck him. He doesn't need to be told twice. He slides his cock all the way in until Mark can feel his pubes graze against his dripping wet hole. Paddy slaps his ass a couple of times which makes Mark moan out even louder into the room.
Paddy takes his cock out after a while so he can suck on Mark Sanz's stiff cock. Mark lies on his back and brings his knees up to his knees. Paddy gets so excited that he plunges his aching hardness deep back into his loosened up hole and bangs him hard and fast.
The finale is so hot. Just watch this amazing scene as Mark's ass hole twitches as Paddy shoots his hot load all over Mark's ass, hand, and nut sack.
Mark then stands up, strokes on his own cock, and rewards Paddy o´Brian by cuming onto his waiting tongue and red beard. Paddy stands up, and they kiss each other lovingly, leaving Mark Sanz with the taste of his own cum in his beautiful young mouth.