Wolf; [wulf] noun. A gay male who is semi-hairy, muscular, lean, attractive and sexually aggressive.
And that's what this series is all about, muscular and attractive, sexual dominant guys who are a mix of hot tops and power bottoms. We've reached part four of 'Howl' the Halloween timed release from Drill My Hole and when we left part there we left a mild cliff-hanger. Colby Keller was heading off to 'make a change' having decided that there was a change in the pack leadership needed. You see, if you've missed the other parts, what this series is all about is a pack of Wolves (see the definition above), and so far Paddy O'Brian has been the leader. So, when the scene opens Colby Keller and Dato Foland return from their sexy session in the woods (that they'd had with Logan Moore in part three), and Colby confronts leader, Paddy, about how he acts and how he makes the rules, and there is clear dissention in the ranks. So, the leader challenges him and, calling on the others, who include Jessy Ares and Gabriel Clark, he demands that Colby is shown who is the boss.

But this is no ordinary gang, this is a pack of 'Wolves', these are wolf-gay guys and so there's no fighting, no clawing or howling even, the only way these guys know how to see who is the best, and most dominant is to sex it out. Fuck fest leads to leaders, and so the proceedings get under way with Paddy O'Brian in a threesome with Gabriel Clark and Jessy Ares, and Colby starting with Dato in the background. We, as the voyeur viewer, move between the two small groups. It's all groping in these groups to start with, with topless hunks fondling each other's growing hard-ons through their jeans. All these guys are muscular, fit and lean and all of them know how to stir up a sexy scene.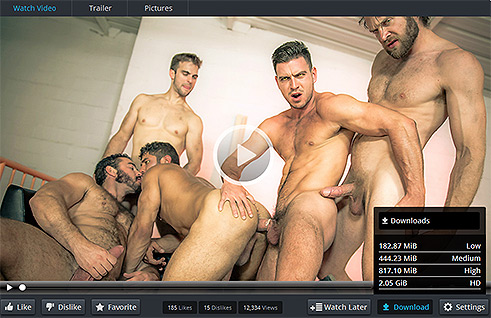 The guys behind the cameras are clever too, and you don't need to worry that you might miss something, which is often an issue with scenes where there are five great guys making out at once. We get long-shots so we can see who is sucking who, and then we get close-ups so we can see Jessy Ares sucking the nuts out of Paddy O'Brian; we pull back so we can see all five guys, and more pants come off, and more flesh gets exposed, and then we switch over to a close-up of Dato Foland being face fucked by Colby Keller. And all the while the animal sounds and whispered gasps fill the room to accompany the sounds of lips smacking on cock flesh and, later, mouths rimming out asses, with suitable thunder effects from outside.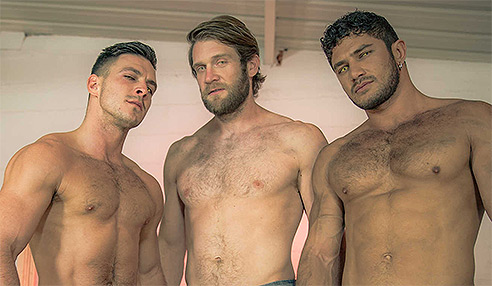 click here to learn how to stream 1330+ gay videos for only $1
The sounds then turn to those of ass fucking as Paddy O'Brian gets a drilling on one side from Jessy Ares and Gabriel Clark and Dato Foland fuck on the other with Colby in the middle. But before long Colby Keller is fucking Paddy in his competition to show who's the leader, who's the top dog, and the five guys come together in a writhing mass of sweaty muscle and animalistic grunts. They all gather around their leader, Paddy O'Brian as, one by one, they empty the contents of their nuts across his furry body, until, fully drenched and unable to hold back, he too lets his juice fly.
And then we get one of those classic Drill My Hole endings: a line of dialogue that leaves us wondering what will happen next, and in this case it is followed by a howl from Colby Keller and a shot of a full moon.