Fallen starts out as a wonderfully erotic and tender scene, with ambient music, soft lighting and great camerawork; and it keeps all that up all the way through. We've got the British hunk Paddy o´Brien working on his laptop on the bed in a candlelit room, when his partner, the perfectly muscled Gabriel Clark comes to lie with him. Gabriel is wearing a nicely cut jockstrap that shows off his round as cheeks as he lies and gently strokes Paddy's leg. Paddy can't concentrate while this is going on and besides, when you have such a wonderfully willing ass waiting for you, there's only one way to go.
Stream Video:
MP4


The music and whispering continue as Paddy explores that ass to the full, his own butt showing tight and hard through his white briefs. He lubes Gabriel up before reaching for a hard toy and then works his hole with the dildo. Soon though the two guys are both naked, sharing some tender cock licking and sucking, taking both hard lengths in one hand, stroking them while kissing and making love. Until it is time for Paddy to really work Gabriel's hole, which he does with his rock hard dick, slowly and tenderly until Paddy wants his turn, his hole is aching for cock too.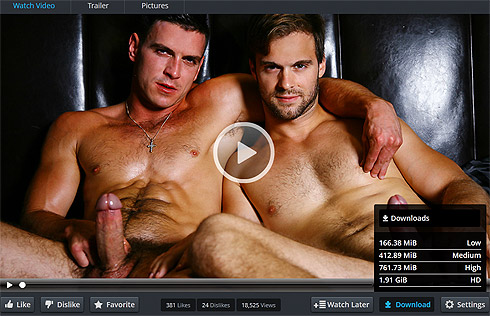 Click Here To Stream The Full Scene
For Only $1
The guys turnabout and swap roles, Paddy, usually a top, becomes versatile and feels Gabriel's hard, cut inches inside him,. And then they swap again, still tender and slow with gasping and whispering Paddy fucks his man deep and hard. The kissing becomes more passionate, they swap roles once more, and after long, long minutes of sensuous love making they bring themselves off in a gasping, clawing climax that leaves their nuts empty and their cocks totally satisfied.
click here to learn how to stream 1330+ gay videos for only $1