OK, so I've not seen Voyeur parts one or two so I am not 100% sure what the on-going story is here but I am very sure that this scene, from Men Of UK is going to be pretty horny. It's got Paddy O'Brian in it for a start, the hunky English guy with the rough London accent. He's calling a mate over for help and that mate is bearded stud Wagner Vittoria. He's on his way and meanwhile Leo is in the control room watching what's going on in Paddy's studio. Wagner arrives, ready to 'do this' and Paddy sets up a remote sensor, while Leo is set to go and everything is ready. Ready for what is pretty obvious, but 'why?' is not so.

Stream Video:
MP4


Anyway, the sex starts and that's the reason we came in. There's some excellent chemistry between Paddy and Wagner as they feel each other up and strip down, kissing passionately while all the time checking the camera. Wagner goes down on Paddy first and this guy has got a great cock, Wagner can't get enough if it as he slurs and gags on it. Paddy is also naturally muscled and hairy, as is his playmate and both guys are studly and manly, tough and fit.
He hot stud-sex continues with Paddy taking the top role and fucking Wagner's tattooed ass. Wagner is big, stocky you might say, and his thick cock stays hard throughout this ass-ramming. He gets taken over the table football table, on the sofa where he sits on Paddy's dick, sliding down all the way, and where he gets onto his back so Paddy can gently slide his length all the way in before beginning his hard ramming again. He keeps this up for a great long while until he lets Wagner chew on his shaft again. He wanks himself off as he does so, so he shoots his cream while still with a mouthful of London Boy dick which he pounds into his mouth until Paddy is ready to cum.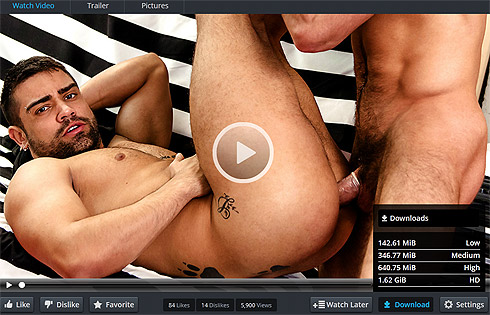 He comes into his palm, saving all his white jizz and milking his rampant dick. And then? Well, then we return to the story and the mystery. Paddy holds his cream filled palm up to the camera and the voyeur, Leo, looking on, tells him that they've 'got it.' Got what I wonder? The only way to find out is to scoot on over there and sign up, and in, to Men Of UK and find out.

click here to learn how to stream 1330+ gay videos for only $1