The End (part 3) is the latest instalment of a Paddy O-Brian adventure that comes from Drill My Hole, part of the Men.com network that is taking the gay porn world by storm. What they do here is set up some on-going series and then film them like they were filming a Hollywood movie, but they use porn stars with some decent acting ability, all of whom know how to put in a hard and long fuck scene when it's called for. The story here is about Paddy and his team on the run, being hunted and there's music and sound effects to go with the action. ( free video preview at the bottom of this post )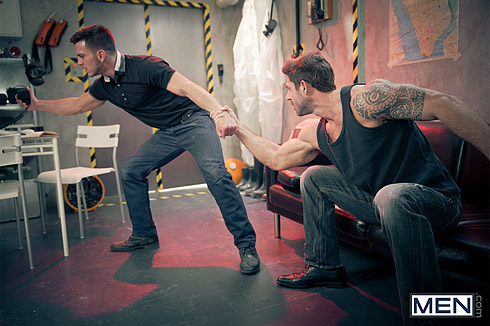 Back at base, Paddy is holed up with Axel Brooks, a hunk he saved from the mayhem taking place outside. The guys have nothing to do but sit and wait it out, but Alex really wants to say thank you and with Paddy looking so hunky in his tight fitting shirt and with his rough-end London accent, I mean, war or no war outside, this guy needs some serious attention. And we get to see every horny moment of it as the two guys start kissing and stripping down, showing us their tatts and their muscled, their smooth skin and, very quickly, their rock had cocks.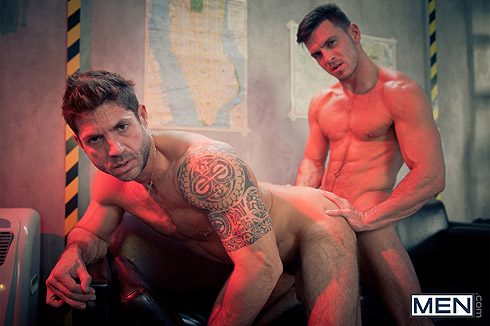 Axel worships Paddy's large cock and gets the Londoner really solid and fired up with his mouth. The room falls silent, only the sounds of their breathing and sucking, you can smell the testosterone in the room. Paddy starts rimming out Axels' hairy ass, getting his tongue right in there, getting his ass ready for his rigid meat. He bends him over on the sofa and starts pounding away at his hole, getting him wound up and ready to take more and harder. Axel rides that long pole as Paddy sits and the guys kiss, passionate and deeply, and all the time the tattooed hunk Axel is stroking his own meat for us. The guys flip positions again and the fucking becomes more intense, all the way through to the end these two guys forget we are watching, the cameras don't exist and we get treated to a fully natural session all the way to the end.

Stream Video:
MP4


Axel jerks off a great load on his body while Paddy is still fucking him and then the top British top shoots several spurts from his manly cock all over his bottom mate still in secretive silence. There is a great atmosphere to this part of this on-going series. But you're going to need to check in and start at part one to get the real, full background on this story.

click here to learn how to stream 1330+ gay videos for only $1