Let me introduce you to a new guy who has just made his debut appearance for Drill My Hole. Gabriel Cross is a cute, cut bottom with dark blonde hair, brown eyes and a very impressive seven inch dick. He's got a great profile image at the site, in the model index, but not a lot of stats and detail as yet. He's making his debut appearance with a well-known exclusive model who you've heard of for sure: Paddy O'Brian the British porn model who is kind of marching across American porn in a big way. Paddy's taller, older, more toned, and more experienced than Gabriel, but he too sports a cut seven-incher. However, there are differences here and opposites and we all know that opposites attract: Gabriel Cross is a sweet looking bottom and Paddy O'Brian is a hunky looking top, so how is this scene going to pan out?

Men Of Anarchy (part one) is the title and once again Drill My Hole have embarked on a series of themed movies. Obviously 'anarchy' is the watchword here and the scene opens with a great montage of some of our favourite Men.com stars, in biker gear, chilling, getting into trouble, riding hard, playing mean and looking like the cast of Easy Rider, or some other Hollywood production. Great filming as usual, great music, good editing, hot guys and playing characters; you could well be watching a mainstream movie here. The guys, the anarchists, are meeting up at their hideout or headquarters, guns are being moved around, there's an intruder, there's a shoot out… Yes, but where's the sex? Calm down, it'll be along in a moment, but the start of this series is compelling (and pretty well acted, well scripted and looks brilliant).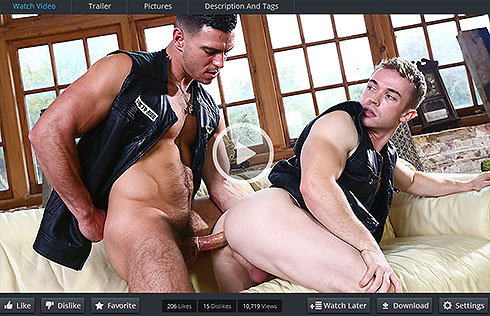 Meanwhile… Paddy O'Brian and Gabriel Cross (also British and softly spoken) are watching from a distance, staking the place out, the plot develops, and the guys have some time to kill. Gabriel does his best to flirt but he doesn't have to try hard. Paddy, looking sharper and more clean-cut than he has for a while, gets the hint and although they shouldn't, they do, and they start 'doing' with some kissing. The guys get topless and Gabriel shows us that he's been working out a bit too; smooth, defined and with a hot body, this guy is going to go a long way. First though he only has to go a short way, down on his knees before the hung Paddy O'Brian where he sucks his cock, getting it hard and offering up his throat to the older, more experienced guy. Paddy sits back and strokes his wet cock as Gabriel strips down and we get the glorious sight of him fully naked, worshiping Paddy's hard dick.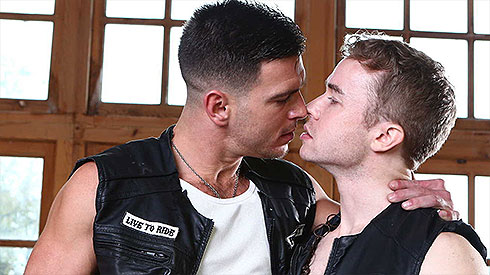 click here to learn how to stream 1330+ gay videos for only $1
There's no messing around here, Paddy doesn't waste time on his mate's needs, he wants that youthful smooth ass and soon has Gabriel Cross on the couch, with his ass in the air and that ass willingly receiving the full length of Paddy's cock. This bottom boy knows how to use his backside, and his mouth as he takes breaks from being banged to get his face fucked a bit more. The part where he sits down on Paddy O'Brian's rigid dick and we see it slide all the way into his well-lubed hole, well, that's just one highlight. There are many more as the hardcore part of this brilliant movie moves towards the climax. Gabriel Cross literally fucked sideways, then riding Paddy's cock as he jerks himself to one of the noisiest cum-shots I've seen in a long while. Behind that pretty-boy, public school, face lies some hot passion which he lets go with a vengeance before getting a faceful of man-jizz from Paddy.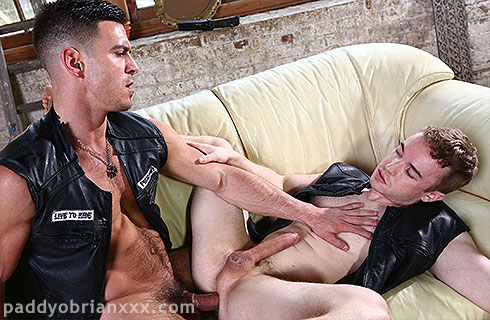 Phew! That's got my day off to a horny start; can't wait for part two!
click here to learn how to stream 1330+ gay videos for only $1