Paddy O'Brian is the British Analyst treating British ex-smoker Theo Reid. He has him relaxing on his couch, he sends him back into his deepest thoughts. The main problem is that permanently horny, gay stud Theo always associates smoking with sex, so when Paddy's trying to get to the bottom if the problem, Theo is talking about getting to the bottom of a horny guys he wants to fuck. He is so far under that he doesn't know he is taking out his own, uncut cock and stroking it, right there on the analyst's couch.
Stream Video:
MP4


It's always best to talk and in a scene that has the best sexy talk between two guys ever, Paddy instructs Theo; he tells him to stroke his thick, heavy cock, whispers to him to take it in his hand. And then he tells the hypnotised Theo to turn around. He bares his ass and Paddy talks him gently through wetting it up, licking it out, driving the semi-conscious Theo deeper and deeper in to his sexual fantasy. Paddy gets him to finger himself as he takes the part of the dream-guy, strips down, gets his big dick hard and then straddles Theo, getting him to suck his hard cock, and to play with his balls.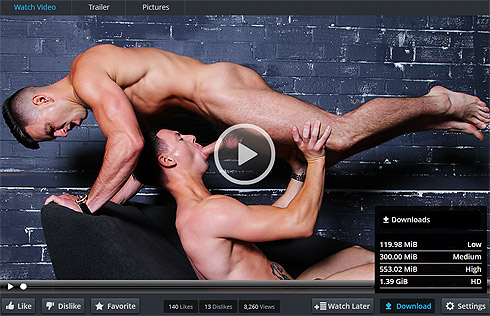 Click Here To Stream The Full Scene
For Only $1
Theo is now totally in his dream world as Paddy slowly enters him from behind. Gently at first and then harder and harder he gives Theo the fucking he has been obsessing about, gets the smooth-chested hunk to ride his cock, gets him to lay on his back where Theo is at his mercy. Finally Paddy is ready to shoot, and he fires off his hot cum right into Theo's hungry mouth and over his chin, before the other guy shoots off over himself. Session over.
click here to learn how to stream 1330+ gay videos for only $1