Paddy O'Brian and McKensie Cross star in this hard hitting hardcore movie by Men.com for 'Men Of UK.'
'Hard Knox 'has been one of the most compelling hardcore series to reach our screens for a very long time. It has a thrilling story line to go along with the great and exciting sex, and the hunky stars too of course!

The story so far, for those of you who haven't seen it yet: Paddy O'Brian has been released from jail after being in there for six years. When he first came out he was picked up by the same cop who helped put him away. He wants to help Paddy get his own back on his old boss, Eric. Paddy listens to the idea and seems interested. They go back to the cop's house and have great sex. The next day He is taken to see Eric where Paddy O'Brian whispers something to Eric, and Eric has one of his men shoot the cop dead. Eric tells him to go to a friend's house and stay there for a while, which he does. Paddy fucks the guy he finds there, not knowing he is being set up, but when he realizes this he shoots him too, and does a runner with the killers hot on his heels. He shoots them all except for one man, Dakota Rice, and after a hot and sweaty sex session, Paddy leaves him telling he shall be back and they will make a new life together once he has sorted Eric out.
Got all that? Good.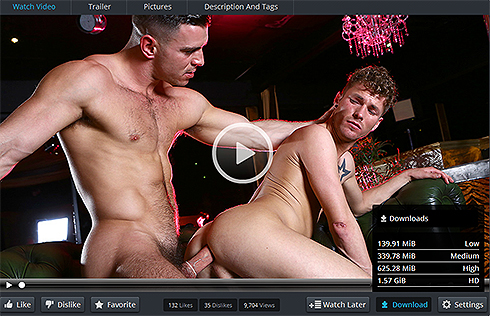 Paddy O'Brian
is exclusive to gaypornstarstube.xxx/ and has been in sixty seven amazing hardcore movies with them so far. His most popular flick has been '
Top To Bottom
Part 2' also starring
Topher DiMaggio
, which has been seen by over 87,000 men. This is no surprise when you check Paddy O'Brian out. Paddy is all muscle which is kept strong by working out in the gym and some kick boxing. He is a top, with a seven inch cut dick. He has short brown hair and hazel eyes; he weighs 165 pounds and is five foot eight inches tall.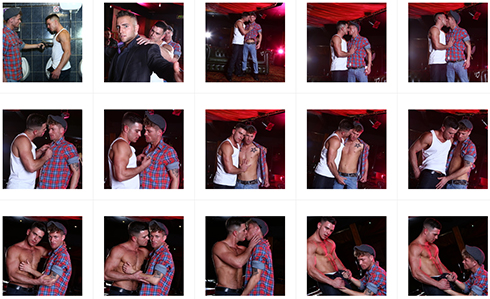 McKensie Cross has a lithe body which helps him get into certain positions other people wouldn't be able to reach. He is a versatile slut of a man with an eight inch uncut cock, and has blonde hair and blue eyes. This is his fourth movie with Men.com and his first one was 'Disconnected', with Paul Walker; this has been viewed 21,000 times since it was made last year.
This fourth episode starts off with Paddy 'O'Brian catching up with Eric in an old cinema. Paddy pulls a gun on him but Eric persuades him not to shoot him. He tells Paddy that he was getting too big for his job. He thought Paddy was after his place in the pecking order. Eric and Paddy come to an arrangement and that Paddy is going to go back to work for him after all.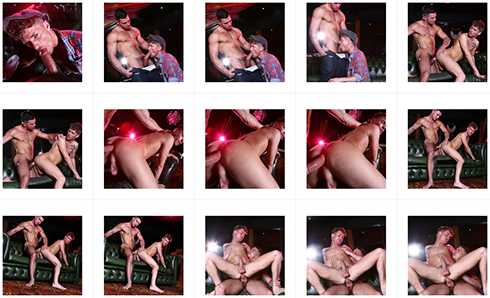 In the next scene another man, Mc Kensie Cross, walks up to Paddy in a public toilet and puts a gun to his head. He tells Paddy that he has ruined everything. He and Alexis (who Paddy killed earlier) were going to rip off the main man, Eric's boss for loads of money and do a runner. He tells Paddy he wants him to help him get the money off him and that they will go 50-50, The meeting happens and after a big shoot out, Eric, and his boss get killed.
Paddy agrees and they start to kiss. They start to strip and paddy gets McKensie Cross to get on his knees and to suck his cock. Being an eager slut, he doesn't need telling twice. Paddy thrusts his cock in and out of him, almost making him choke.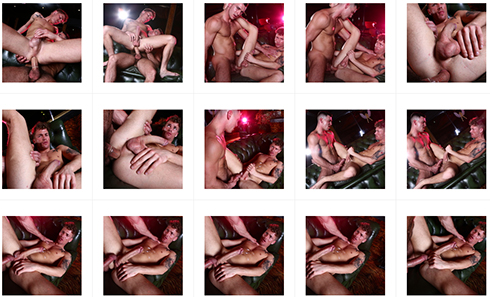 McKensie turns around and, after Paddy has slapped his ass a few times, he feels Paddy's dick sliding all the way in, right up to his tight ball sack. McKenzie moans as his tight ass gets a good drilling as Paddy punishes his hole standing up.
McKenzie then gets on his back and pumps his cock up and down and, whilst Paddy still fucks him, his cum shoots out and splatters his face, chest and stomach. Paddy cums almost straight away, his spunk mingling with McKenzie Cross's.
Once dressed, Paddy O'Brian shoots McKenzie and takes off with the money! He takes it to his lover, Dakota Rice, and they start their new life together.
In 'The Professional,' Men Of UK show you an obsessed man's personal and professional life in London. The movie is made by Men.com and stars Paddy O'Brian and Blue Moores.
Paddy O'Brian is a thirty year old hunky man who lives on his own in Central London, England. He likes order and can't stand chaos. Everything has to be perfectly clean and straight in his house, and in his life. Paddy has always taken care of himself, he has a great body and it shows that he works out every day, and follows up by using different creams on his face and body. His body is his temple; he is very careful of what he eats and drinks. He wears a suit every day, and when he looks at everyone else around him he puts himself above them, he classes himself better than them. At the end of the day, he goes home, making sure he still looks good, he makes his way down to his basement.

His basement has been turned into a dungeon and waiting for him in a cell is his obedient slave, Blue Moores. He has been there for two weeks. Blue asks him to touch him, so Paddy puts his arms through the iron bars and pulls his head towards him, kissing him full on the lips. Paddy tells him to keep on calling him sir and lets him out of his cage, always speaking to him in a firm but quiet voice that hides a menacing threat to always do as he is told. Paddy is trying to give the man some kind of order in his otherwise chaotic life.
Paddy orders Blue to kneel down and wait while he closes the cell door. He tells him to take his trousers off; he wants to see him naked. He tells him to pull on his nipples as he watches while he takes his clothes off slowly and hangs his clothes up in an orderly manner. Paddy orders him to play with his own cock, he wants to see it grow, and get hard. Blue, then gets on his hands and knees and turns around, on Paddy's orders, and, as he spreads his butt cheeks wide open, he fingers his own tight asshole. Paddy stands in front of him and gets Blue to lick and suck his excited cock.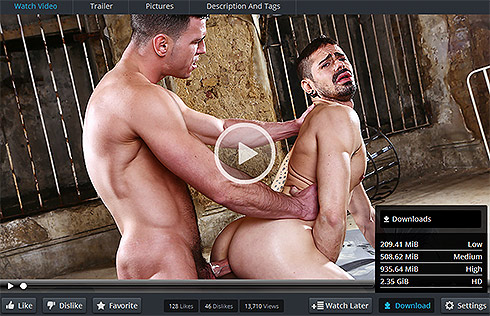 Paddy O'Brian kneels behind him once his cock is rock hard and plunges his aching hard erection deep into his tight asshole. He makes Blue beg for his cock which he does. Paddy loves the feel of Blue Moores' tight asshole wrapped around his invading cock, and slaps his butt cheek a few times as he drills him hard and fast doggy style.
Paddy screws his asshole in different positions on the floor, and then gets him to suck his cock again, eventually pounding his cock into his crack in the missionary position. Blue Moores is continually shouting out, 'Thank you sir, oh, thank you sir!' as he jerks his cock up and down in time with the hard thrusting. With one more 'Thank you sir!' Blue cums all over his stomach. Paddy O'Brian pulls his cock out and spills his spunk over Blue's powerful thigh and empty ball sack.
Paddy gets dressed and walks back upstairs leaving his slave lying on the floor with cum dribbling down his body and onto the floor below him.
Paddy O'Brian
is exclusive to
Men.com
and is one of the leading, and much sought after men in the gay porn industry. He has a natural flair for acting and his London accent is a big turn on for many men. He has starred in sixty eight hardcore movies with Men.com which includes the popular series 'Hard Knox' where he has just come out of prison and is out for revenge. He fucks his way to see his old boss again and then he sets about his blood thirsty revenge. Paddy has an awesome body with a great six pack. He is a top with a seven inch cut dick, is five foot eight and has brown hair and soft hazel eyes.
In Contrast to paddy O'Brian, this is Blue Moores' first porn movie with Men.com. He is a cute versatile bottom with a wonderful tight ass and a seven and a half inch uncut cock. Blue is five foot nine, weighs 159 pounds and has brown hair and black eyes. Keep an eye on this young man, I am sure we will see a lot more of him in many hardcore gay movies.