Here's a fantastic exclusive from Men dot com made for 'Men Of UK.' In part 1 of this thrilling series, Paddy O'Brian has been released from jail. He gets picked up by Bruno Bernal who is an ex-cop and is told that they are going to get revenge his old boss, Eric. Paddy likes the sound of it and goes along with the idea but before he does, he and Bruno have sex in a shabby apartment.
The second episode starts off with Paddy O'Brian lying down on the bed just after having sex with Bruno Bernal.

He is feeling good after having his first fuck in years. The smell of fresh man-cum still fills the air when Bruno pulls a gun on Paddy telling him he wants to renegotiate his 60-40 split. Paddy O'Brian stands up and tells Bruno it's not going to look good with a dead ex-con in his flat. Bruno tells him he still wants to renegotiate the deal. Paddy manages to take his gun away from him; they calm down and go to a pub where they see Eric and his henchmen getting nasty with the owner. Paddy speaks quietly to Eric and before you know it, the henchman shoots Bruno right in the head. Eric welcomes him into the pack and tells him to get over to Alexis Belfort's pad and have something to eat.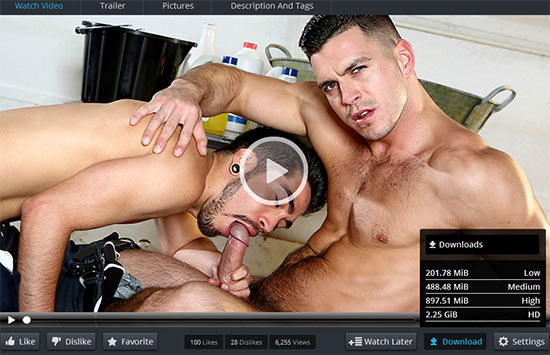 Paddy O'Brian is one of the top exclusive men for Men.com and it's not hard to see why. He has an amazing strong body with handsome looks, and that's not forgetting his sexy London accent. He has been in an amazing sixty five movies with Men.com which include the hot series 'The Abbey parts 1, 2 and 3' and the popular 'Howl' series parts 1, 2 and 4, amongst many others. Paddy is a top with a seven inch cut cock. He has short cropped brown hair and hazel eyes. He is five foot eight and weighs 165 pounds.
This is Alexis Belfort's first hardcore flick with Men.com but he starts off with a great partner. He has an athletic body with sultry good looks. He is a versatile bottom with a seven inch uncut dick. He is five foot eight with black hair and brown eyes.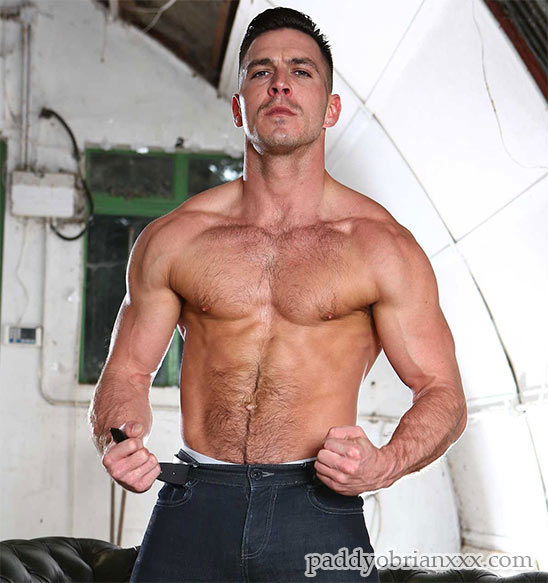 The next scene in this amazing movie has Paddy O'Brian finishing off his takeaway whilst Alexis Belfort carries on working next to him. Paddy asks him if he has a partner yet and tells him to come down and sit with him. He tells Alexis that he has missed him, he puts his hand on his leg and tells him to come closer. Paddy starts to kiss him gently and peels his top from him.
This may be Alexis Belfort's first hardcore movie but he has certainly sucked a lot of cocks before, you can tell. He gets Paddy moaning with pleasure almost straight away as he goes down and starts to give him a mind-blowing blow job. Paddy fucks his mouth back as Alexis strokes on his own cock.
Paddy pulls Alexis' pants off him and, as Alexis lays down on his front, Paddy slaps his ass and fingers his tight asshole. He slaps his asshole with his cock, getting Alexis excited about what is to come, and then he slides it all the way in. The room is hot and they start to moan out with animal lust as Paddy drill's his crack harder and faster, doggy style.
Paddy O'Brian fucks him till his asshole is red raw and he spills his pearly white cum over his body. Paddy moves up and kneels in front of Alexis Belfort's bearded face. He jerks himself off, cumming all over his face.
The next scene shows Alexis phone ringing. He answers it but doesn't say anything to Paddy. It's Eric, Paddy's old boss. He tells Alexis that he feels something dodgy is going on with Paddy so he's sending a few men around his house to sort him out…
Don't know about you, but I can't wait to see the next episode to see what happens to who, and to find out who will be the next one to get fucked by Paddy O'Brian.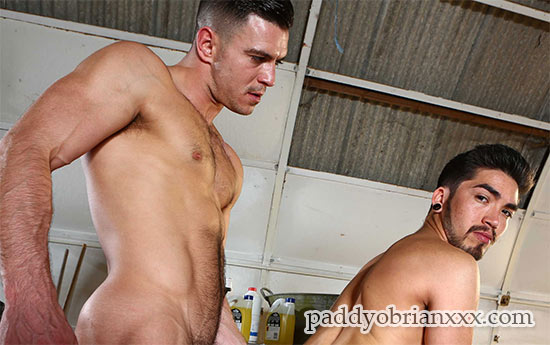 If you are going to look at 'Men Of UK' you have to look at anything with Paddy O'Brian in. He is in hot demand, but he is exclusive to Men.com. He has an amazing London accent which everyone loves and gets turned on by. He has a great reputation, not only is he a natural actor but he has got one of the best, and certainly hottest, bodies in the industry. He manages to play at being something of a hard nut, mixed with a good heart, better than some of the big names in Hollywood. He is in his perfect job as he counts wanking and having sex as his hobbies. Good healthy hobbies if you ask me. Paddy is five foot eight inches tall and weighs a healthy 165 pounds.

He has short cropped brown eyes and sexy hazel eyes. He is an incredible top with a seven inch cut dick. He has starred in sixty four flicks with Men.com which include the hardcore series 'P.O.W Parts 1, 2, 3 and 4.' And also the 'Men In Ibiza Parts 1, 2 3 and 4.' Both of these have done well with a whole load of you horny men watching them with your dicks in your hands.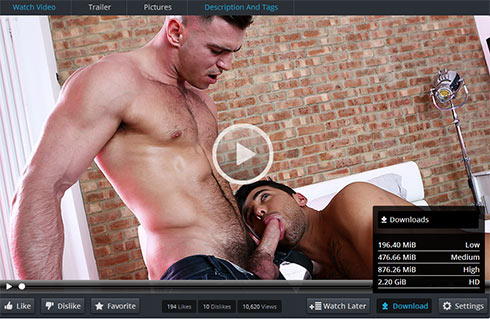 His partner in crime in this first episode of 'Hard Knox' is Bruno Bernal. Bruno is a pint sized god, as this cutie stands at five foot four and is all muscle, and has a most fantastic fuckable ass – which you can see for yourselves. He has black hair and puppy dog brown eyes. He is versatile with a seven inch cut dick. This is his third movie so far. His first one 'The Law Of Men Part 2' where he gets fucked by the lucky Paul Walker.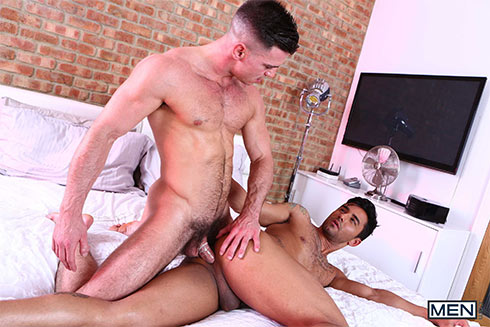 This exciting movie starts off inside prison. A prison officer tells Paddy O'Brian that he has done his time and will be released later that day. A man goes to attack Paddy but he knocks him down without any problem, and Paddy leaves the room after giving him a warming. He changes out of his orange prison uniform into his civvies and walks out of the gates, he hopes for good. A car pulls up and Bruno Bernal tells him to get in. Paddy O'Brian tells him he isn't used to getting lifts from 'coppers.' Bruno tells him that it wasn't an invite, and orders him once again into the car. Bruno tells him that he is taking him to see his old boss. Paddy asks him if he is working for him now. Bruno says no, Paddy's ex-boss was the one that helped put him away in prison. Bruno has an idea that will fuck his old boss over once and for all, and make them money in the process. He takes him back to his flat and Paddy once more asks him what he wants. Looking into his eyes tells him what he wants… and they begin to kiss.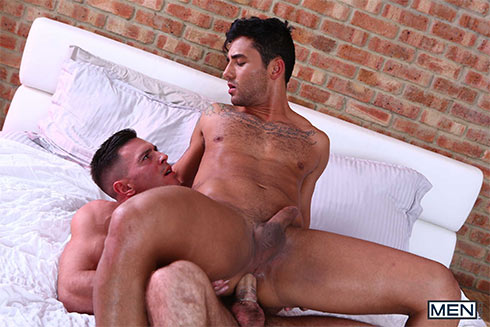 Bruno gets his clothes off and lies on the bed, on his front, sucking on Paddy's stiff erection. Paddy enjoys the heat from his mouth and slaps his tight muscular ass a few times. They slap each other's chests, and Bruno carries on sucking on that hard dick as Paddy spits between Bruno's hard ass cheeks and gives him a quick finger fuck.
Bruno gets onto all fours and Paddy gets behind him. Bruno moans with excitement as Paddy pushes his cock into his ass crack hard and fast. Their hot bodies sweat as Paddy O'Brian fucks him hard the whole time. They change positions a few times but Paddy never slows down as he rams his cock deep into him. Laying on his back, Bruno opens his mouth just in time as Paddy's cum sprays all over his eager lips. He rubs on his own cock with Paddy squeezing his balls together. With one last groan Bruno Bernal shoots his hot spunk onto his sweating body.
This is a great hardcore flick with nonstop action. We can't wait to see you what Paddy will do next, and with whom.