It looks like Drill My Hole has gone on holiday, not that these guys take time off for very long. If they are on holiday then they are in Ibiza, and are working while they are there. I am keen to see part two of this new series and I haven't even told you about part one yet! They have just started Gay Men Porn In Ibiza, and it looks like they have taken at least one of their top stars, Paddy O'Brien with them to the island. In this first episode he has teamed up with a new guy, Juan Lopez, an uncut, well hung, trim and fit guy with dark, Spanish looks. It's sex under the sun time for these two, and us, as we are transported across the seas to the Mediterranean for some hardcore in the heat of siesta time.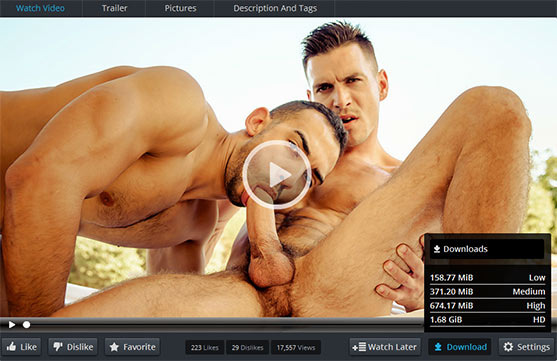 But no one is taking a siesta in this scene. It opens on the pool of some luxury villa up in the mountains and you want to go there as soon as you see it. Then when you see Juan swimming in your pool you know you really want to be going there now. And then when Paddy comes out from the house in his tight, white briefs, his big cock already straining at the seams, well, then you find yourself reaching for your card and calling the airline. But don't go just yet or you will miss the fun.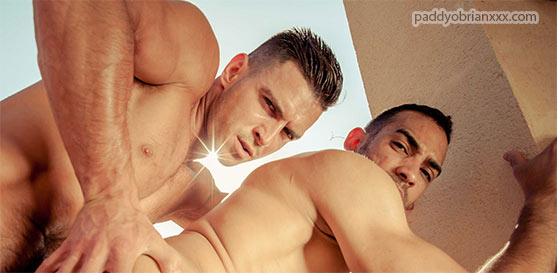 There' no real set-up to this scene, it's straight into the atmosphere and the sex. Juan gets out of the pool in his tight trunks, he comes over to Paddy, dripping pool water and sexuality and the two guys start some tender kissing and fondling. The first seven minutes or so are all about Paddy getting his fat British cock sucked by his new Spanish (I assume) mate. He face fucks Juan and gets himself really worked up. But then, after a long shot of the dreamy poolside setting, it's time for Paddy to investigate Juan's ass.
He takes this tight black trunks from him (revealing his perfectly shaved cock and balls) and starts working on his hole; a bit of fingering, a bit of loosening up, some deep rimming… The guys move down onto the terrace for the fucking, out in the bright sunlight, under the heat of the day. Paddy starts slowly, but soon works up his speed and it looks like Juan is more than able to take a hard ass-pounding from the top stud. As usual, from this great film company, there is excellent light and sound, great chemistry and a brilliant cum-shot ending before the two guys return, still in silence, to the pool. Oh yes, roll on part two!
'Men Of UK' are proud to show of Paddy O'Brian in this hardcore flick made by Men dot com. Paddy O'Brian is exclusive to Men dot com and has been in sixty two movies so far. This is no surprise as Men.com only have the best, and boy! Paddy certainly is one hunk of a man. One look at this heavenly body tells you he spends a lot of time keeping fit. His beautiful body is firm and ripped. He is a top with a seven inch cut dick. He has short brown hair, mesmerizing hazel eyes, and his favorite hobbies including wanking, sex, and lots of it, which is good for us mere mortals. His most watched movie is 'Top To Bottom Part 2' starring Topher Maggio which has been viewed 85,922. That's one hell of a lot of people. If you haven't checked this guy out, now is your chance to see him and plenty more horny actors enjoying their work for your pleasure.

In this hot flick Paddy has been joined by the hunky and horny Flex. Flex is a relative newcomer to this production company and has only been in one other flick so far with Men.com. That is "Good Morning Love' with Denis Vega. The movie had over 14,000 members watch Flex's first time in porn; that's pretty impressive in my book. He is a versatile top with a seven inch uncut cock. He has black hair and brown 'come to bed' eyes. This man is one to watch out for in the future. Just watch this movie to find out what he is all about, and you won't be disappointed.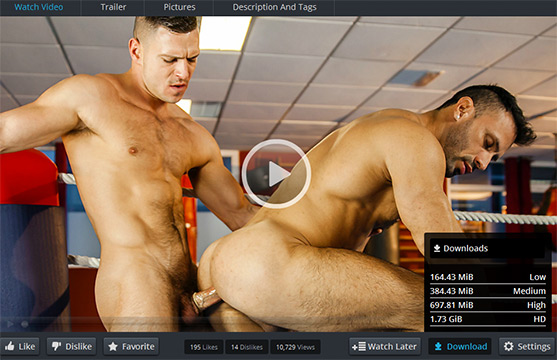 Paddy O'Brian is only wearing a pair of shorts as he works out in the kickboxing ring. This is no acting, he really can kickbox. He looks great as his muscles rip as he moves around. He is stressed out and finds he can't concentrate. He says he has a lot of pressure so his partner, Flex, massages his shoulders and tells him to relax. Paddy tells him he hasn't has sex in four weeks and that he has hardly slept. Flex gets in the ring with him and puts a hand on his shoulder. Paddy looks into his eyes and smiles at him. Flex peels off his tight vest and they kiss in the corner on the ring.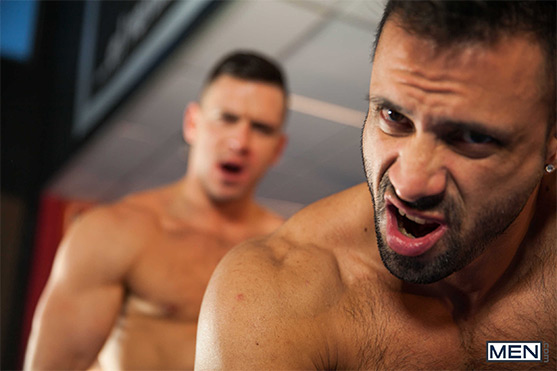 click here to learn how to stream 1330+ gay videos for only $1
As they stand there kissing, their hands begin to wander, and caress the other one's tight firm body. Paddy O'Brian puts one hand down Flex's pants and grabs his ass whilst he squeezes his small, dark brown nipple. Flex slides his hand up and down Paddy's body and takes a good grip of Paddy's thickening dick.
Flex gets on his knees and sucks eagerly on Paddy's erect dick, taking it to the back of his throat every time. Paddy loves it, and wants more, but he also wants to please Flex. He gets flex to bend over and, spreading his ass wide open, he slithers his tongue like a snake, in and out of his tight, hairy crack while enjoying the sounds of excitement escaping from Flex's lips.
Making sure his asshole is wet inside, and outside, Paddy O'Brian rolls on a condom, and with Flex still bent over, he slides his stiff dick easily deep into his warm moist asshole. Paddy goes faster and faster making them both hold on tight to the ropes around the ring to keep their balance.
As they change positions, Flex can't hold back and spurts his fresh hot Jizz all over his hairy six pack. Paddy O'Brian moves up to his face and sends big globs of his thick white Jizz all over Flex's wet lips and trimmed beard.
This is a great video, one to watch over and over again and you can find on via a Men.com signup where thousands of men come to view – and view to cum.
click here to learn how to stream 1330+ gay videos for only $1