The Abbey Part 3
in
It was just over one year ago (as I write) in December 2013 that Jace Tyler appeared on our screens. He made his debut in a Gods Of Men movie, 'Early Riser' alongside, and underneath, Eric Star. Since then he's gone on to make a few other movies with Men.com (and possibly elsewhere) and has appeared with Gabriel Clarke a couple of times, and a few other of the top models who work for this outstanding network. But so far he's not really played with the big guns, he's not been set up with any of the huge names, that is, until today. Here he is in a scene with the legend Paddy O'Brian and it's a hot one, and it's from Men Of UK.

And it is part of 'The Abbey' series, episode three (season one?). This series is set among the high-class, upper-class, upstairs and posh of good old Blighty, and plays out the inter-class stories perfectly. There are under stairs butlers and footmen having shady pasts to share with the tight lipped, tight-assed upper class above stairs, the younger and sexy lords of the manor. And there is all the sexiness that comes from the tight-back butler's outfits, the sexy and good looking British boys fresh from public school, and the sounds of the accents.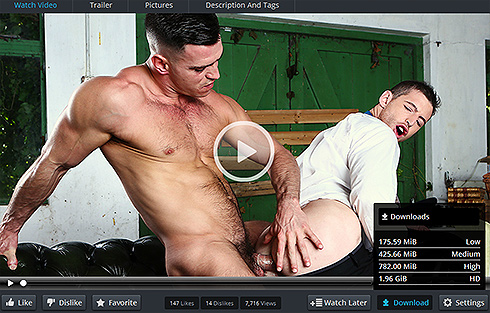 The Abby part three starts with 'Stephen' the eldest son of the lord of the manor, being driven by his chauffeur, Tom, played by Paddy O'Brian. It's a bit out of the blue but Tom is in favour of same sex rights and social equality, and starts calling the young master Stephen, which leads to him calling him Tom and the two guys bond. That comes in handy as, a little later, Jace Tyler comes to find Paddy O'Brian in the garage after dinner (where his talk of same sex rights didn't go down well apparently). Paddy is topless as he cleans the car and, when he puts his hands on Jace Tyler, this scene changes. But it can't happen! Not only is it wrong for two men in this period to be together (see E.M. Forster for the real deal) but it's across the classes. But hey! It's equality all round when the guys start to grapple with each other and the flood gates of sexual repression are opened up.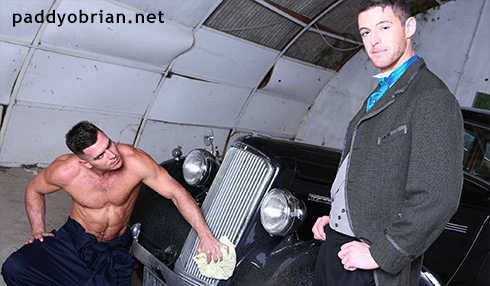 click here to learn how to stream 1330+ gay videos for only $1
And so it all comes pouring out for Jace Tyler and Paddy O'Brian. Class distinctions are forgotten, as the guys grasp each other's hard cocks and the young master goes down on the chauffeur. And then the chauffeur becomes bolder and takes more liberties and starts to explore the lord's ass and, before we're even half way through the runtime of this wonderful fantasy, Jace Tyler is getting right royally butt-fucked by the London lad, Paddy O'Brian. He's got his bent over in the garage, he's fucking his ass and slapping his ass cheeks, the young master still in his white dinner shirt. But you can tell Jace Tyler is loving this, his cock is rock solid, all eight inches of it as he rides Paddy's pole on the Chesterfield and the two guys sweat and grunt their way through so many different positions.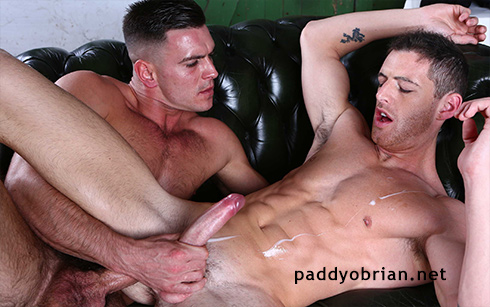 They break off every now and then so Jace can suck wildly on Paddy's cock some more; it's like the upper class can't get enough of the working class dick. And then they fuck some more, and things get wild and loud and non-stop until Paddy pulls out and dumps his load on Jace. Jace Tyler can't hold back either and, grappling with his cock as his balls ride up, he shoots a thick wad over himself. 'The Abbey' is turning into one hell of a hot series; don't miss it!
Men Of Anarchy Part 1
in
Let me introduce you to a new guy who has just made his debut appearance for Drill My Hole. Gabriel Cross is a cute, cut bottom with dark blonde hair, brown eyes and a very impressive seven inch dick. He's got a great profile image at the site, in the model index, but not a lot of stats and detail as yet. He's making his debut appearance with a well-known exclusive model who you've heard of for sure: Paddy O'Brian the British porn model who is kind of marching across American porn in a big way. Paddy's taller, older, more toned, and more experienced than Gabriel, but he too sports a cut seven-incher. However, there are differences here and opposites and we all know that opposites attract: Gabriel Cross is a sweet looking bottom and Paddy O'Brian is a hunky looking top, so how is this scene going to pan out?

Men Of Anarchy (part one) is the title and once again Drill My Hole have embarked on a series of themed movies. Obviously 'anarchy' is the watchword here and the scene opens with a great montage of some of our favourite Men.com stars, in biker gear, chilling, getting into trouble, riding hard, playing mean and looking like the cast of Easy Rider, or some other Hollywood production. Great filming as usual, great music, good editing, hot guys and playing characters; you could well be watching a mainstream movie here. The guys, the anarchists, are meeting up at their hideout or headquarters, guns are being moved around, there's an intruder, there's a shoot out… Yes, but where's the sex? Calm down, it'll be along in a moment, but the start of this series is compelling (and pretty well acted, well scripted and looks brilliant).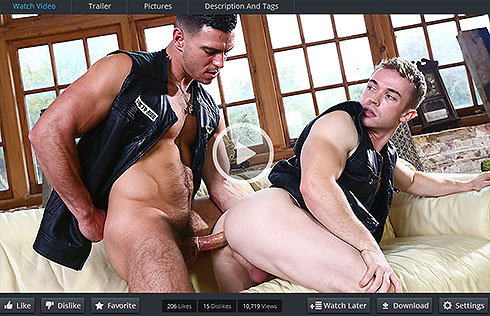 Meanwhile… Paddy O'Brian and Gabriel Cross (also British and softly spoken) are watching from a distance, staking the place out, the plot develops, and the guys have some time to kill. Gabriel does his best to flirt but he doesn't have to try hard. Paddy, looking sharper and more clean-cut than he has for a while, gets the hint and although they shouldn't, they do, and they start 'doing' with some kissing. The guys get topless and Gabriel shows us that he's been working out a bit too; smooth, defined and with a hot body, this guy is going to go a long way. First though he only has to go a short way, down on his knees before the hung Paddy O'Brian where he sucks his cock, getting it hard and offering up his throat to the older, more experienced guy. Paddy sits back and strokes his wet cock as Gabriel strips down and we get the glorious sight of him fully naked, worshiping Paddy's hard dick.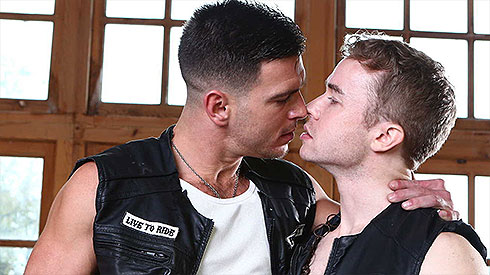 click here to learn how to stream 1330+ gay videos for only $1
There's no messing around here, Paddy doesn't waste time on his mate's needs, he wants that youthful smooth ass and soon has Gabriel Cross on the couch, with his ass in the air and that ass willingly receiving the full length of Paddy's cock. This bottom boy knows how to use his backside, and his mouth as he takes breaks from being banged to get his face fucked a bit more. The part where he sits down on Paddy O'Brian's rigid dick and we see it slide all the way into his well-lubed hole, well, that's just one highlight. There are many more as the hardcore part of this brilliant movie moves towards the climax. Gabriel Cross literally fucked sideways, then riding Paddy's cock as he jerks himself to one of the noisiest cum-shots I've seen in a long while. Behind that pretty-boy, public school, face lies some hot passion which he lets go with a vengeance before getting a faceful of man-jizz from Paddy.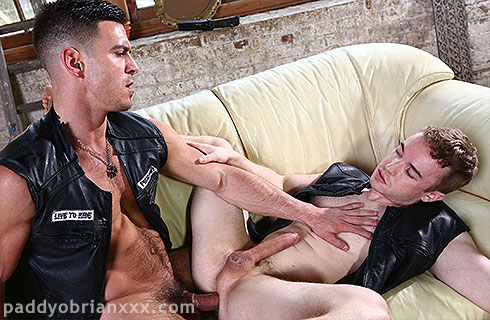 Phew! That's got my day off to a horny start; can't wait for part two!
click here to learn how to stream 1330+ gay videos for only $1
X Confession
in
It's not going to be long now before super-stud Paddy O'Brian takes over the spot of 'most movies made for a network.' With 56 hardcore scenes now under his belt he's catching up with some of the other exclusive Men.com models, in fact he is currently ranking third, with only Colby Jansen (69 scenes) and young Johnny Rapid (122 scenes –gulp!) ahead of him. That goes some way to showing how popular this Brit boy is. And I know he is a British porn model because of his accent. At the start of this scene, 'X Confession' he firmly states that you either love him or hate him, you either love his accent or hate it. You need to listen, when you head over to Gods Of Men in a moment (which I highly recommend you do) and check him out. I'd say it was South London – the accent I mean – possibly Essex, but definitely south of England and with a London bias. Close your eyes and think of England!

So, in this scene Paddy appears with Goran. Now, Goran is a hardcore porn guy who pops up in these movies from time to time. He's appeared in four in 2012 and three in 2013, and two in 2014. Looks like he may only appear in one next year, if the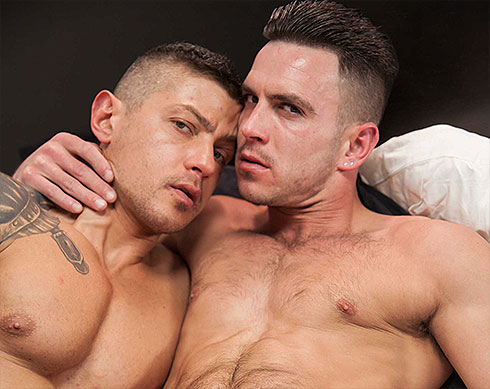 law of diminishing returns works out. Let's hope not 'cos we can't get enough of this grey haired, blue eyed, uncut stud. And actually, the fact that he hasn't made that many movies is kind of fitting. This scene 'X Confession' comes from the Men.com site, 'Gods Of Men' and they only make movies for that site when there are movies worth making. By which I mean, when there is hot chemistry and when there are hot models available to make them.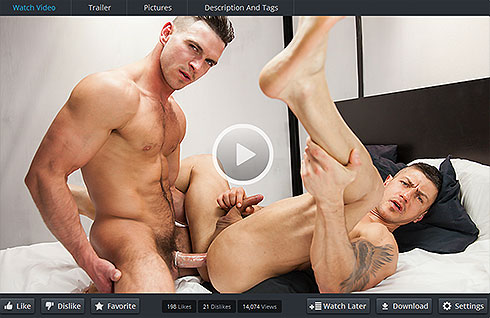 And sure enough, we have the hotter than hot Paddy O'Brian (who we love by the way; I mean, what's there to hate?) and the super studly Goran in a dreamy, sex-only movie that has no intro apart from some talk from Paddy. That's the love me or hate me intro, and it is voiced over the two hunks kissing tenderly. Another thing that GOM does well, it takes hunky hardcore guys and puts them together in dreamy, erotic and sensual movies, a nice contrast leading to hot scenes. The guys here are still kissing and exploring each other's bodies while taking breaks for Goran to go down and suck on Paddy's hard cock. In fact Goran uses his month to explore most of Paddy O'Brian as he licks his shaft, his nuts, and then trails his tongue down and around his ass. Paddy is man enough to live out his deepest fantasies, and being fucked by this hulk is one of them, so he offers up his ass willingly.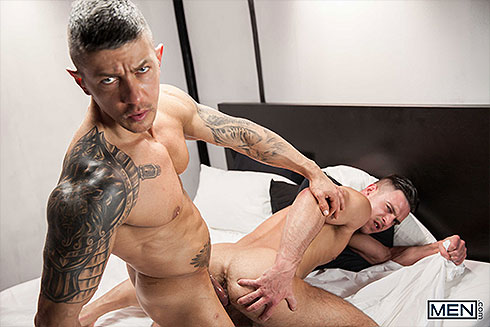 click here to learn how to stream 1330+ gay videos for only $1
He's also a pretty vocal star so you gets lots of erotic grunts and groans, murmurs of approval and gasps as Goran licks him, and sucks him and then finally penetrates his British ass. Paddy's in the classic missionary position at the start of this ass-fuck section of the movie, but soon moves into other positions. We travel around their bodies as the two guys fuck and buck and then, much later, swap roles. It looks like Goran is not as used to taking dick in his ass as Paddy is as Paddy O'Brian fucks him slowly, carefully almost, and doesn't drill him all the way in, so as not to split him. But the other guy does soon give way and the feeling of that hard British cock in his as soon brings him to orgasm. Paddy cums too and the scene finishes back where it started: Paddy O'Brian and Goran kissing.
click here to learn how to stream 1330+ gay videos for only $1