Stream Video:
MP4


The scene starts with a split screen, nice music and excellent light, as we have come to expect from this company, and with Paddy and Andrea lying side by side on the bed in their underpants., You can see that they are already hard and ready to go, but things start slowly and sensually. There are some words of love, some gentle stroking of hard bodies, kissing, and great tenderness which looks to be completely real and non-acted. Andrea is muscled and cute, with a firm body and a large cock. Paddy is pretty similar in build and looks so when the two guys start stroking each other's cocks, you get two perfect porn star models making out as if they were genuine lovers.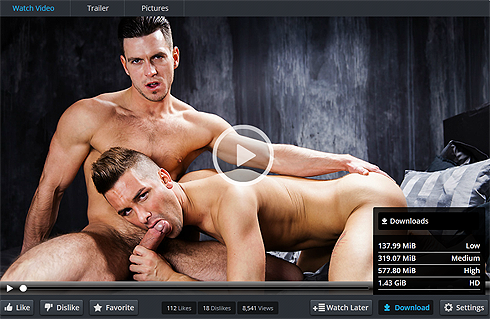 The making out moves on to some hot oral with Andrea making it clear that he is going to be the subservient one in this pairing. He works his mouth and throat down on Paddy's hard cock for a while, like he's worshiping it, and then lets Paddy oBrian see his ass. And what an ass; tight and round, with a cheeky pair of lips tattooed on a cheek, inviting you closer, not that you need any invitation to bend down and kiss it. Which is exactly what Paddy does, and more than lick it, he rims his boy out good and long getting his hole wet and ready.
Even the penetration and anal part of this scene is sensitive and loving and it's a great moment when Andrea gives up his ass to be fucked for the first time on film. You are about half way through the scene at this point, so there is still plenty of horny hardcore time left as the two studs buck and fuck in all manner of positions. They keep up the tender kissing and genuine love making style and there is no dodgy dialogue here. It's a brilliant hardcore movie that's handled in a very erotic way that includes two fantastic cum shots. The scene ends with Paddy about to tell a very naughty story, which leaves us panting for part three.

click here to learn how to stream 1330+ gay videos for only $1
Voyeur is a series from Men Of UK a top site that takes British and American porn studs and puts them together in exclusive and original movies. In this one we are in at the start of an adventure and the opening episode stars British hunk Paddy O'Brian and tattooed stud Damien Crosse. This series of scenes is about obsession, about one guy stalking another and it builds to a great climax. As is usual for Men.com, who made the scene, there are characters and stories so it is not just going to gratuitous sex. But how does this story start? Well, that's' what we're about to find out.

Stream Video:
MP4


It starts with a voice over and great imagery, like some kind of top quality Hollywood production. The voice tells us that this is a story of a voyeur… and we cut to Paddy answering the phone. He's a photographer working from home when he gets a note pushed through his door, it reads 'I love you (I'm watching you)', which he passes off as a prank. Then Damien calls round and Paddy thinks he's done it. And then the crank phone calls start. Things start to get Paddy wound up but luckily Damien is there to calm him down and so we get to the real nitty-gritty of the scene, two hulking hard buddies making out together.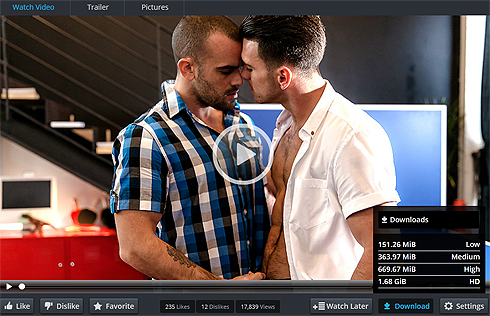 It starts with gentle kissing and undressing, but while that is happening the voyeur is setting up his camera and spying in. We know that he is going to be able to see everything as Damien goes down on paddy's rock hard cock and nearly chokes on it as Paddy fast-fucks his mouth. Paddy, naked, muscled and hard as a plank of wood, gets Damien's cock out, jerks it for a while as he plays with it and then starts to explore the hunk's ass. And all this is being watched through the window by our voyeur.

click here to learn how to stream 1330+ gay videos for only $1
Damien takes Paddy's cock like his ass was made for it. He bends over the table, he sits on it while stroking his own impressive meat and then he gets down on his knees and worships it some more with his mouth. In that position he jerks and sucks Paddy hard, fast and yet near silently while Paddy cums in his mouth. Damien licks up every last drop of the stuff and lets it dribble from his mouth as he squirts his own load in a really dirty, horny climax.
And the voyeur is still watching, and it looks like he has a camera in the room, and Paddy knows there is going to be more of this staking to come. (To be continued…)
.