OK, so we've got a couple of those horny Men Of UK guys in a car, in an urban, underground car park, following a lead. (If you've not seen the other parts of this series it doesn't matter too much, but you will want to check them out after you've seen this one.) Paddy O'Brian is there with his Vinny Jones accent and his hunking good looks, and he's with sexy Leo Domenico. They find the voyeur's lair and realise that not only has this guy been spying on Paddy but there are photos and cameras and all kinds of surveillance equipment. It's creepy and upsetting, and the voyeur is on his way.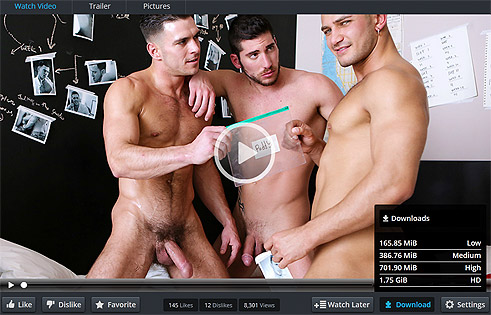 This stalker has a real problem and Paddy and Leo want it explained, so when Dato Foland turns up as the stalker there's a confrontation. What does he want? Well, it's pretty obvious isn't it? He wants to have sex with Paddy (and who doesn't?). So, if he promises that his will be the end of it, Paddy and Leo will give him what he wants.
That's a long intro to a very hot scene, but it's one of those series where Men.com build up characters and stories and it make a nice change from the usual wham-bam thank you sir porn videos we see. This one develops into a three-way with these top tops, and hunks. There's a section so sensuous stripping down and kissing, with the three guys working each other together, at the same time. Dato gets what he wants and gets to suck both hard cocks as the middle-guy, stroking one while sucking the other. He gets on all fours and shows off his smooth hard butt which Paddy rims while Leo gets more cock attention.

click here to learn how to stream 1330+ gay videos for only $1
You just know that Paddy is not going to resist that cute ass for very long and he's soon sliding his cock in to the stalker's ass and spit-roasting him with Leo at the other end. The two tops change positions and Leo gets to stab the stalker, hard and fast now, pushing his head up and down on Paddy's hard shaft. It all builds to a messy climax with the three guys in a jerk-off together and shooting together but with Dato cumin onto a photo of Paddy. And then, in a nice little twist, Paddy gives him a gift he's never going to forget. But you really will have to go and watch the scene to see exactly what that is.
click here to learn how to stream 1330+ gay videos for only $1
OK, so I've not seen Voyeur parts one or two so I am not 100% sure what the on-going story is here but I am very sure that this scene, from Men Of UK is going to be pretty horny. It's got Paddy O'Brian in it for a start, the hunky English guy with the rough London accent. He's calling a mate over for help and that mate is bearded stud Wagner Vittoria. He's on his way and meanwhile Leo is in the control room watching what's going on in Paddy's studio. Wagner arrives, ready to 'do this' and Paddy sets up a remote sensor, while Leo is set to go and everything is ready. Ready for what is pretty obvious, but 'why?' is not so.

Stream Video:
MP4


Anyway, the sex starts and that's the reason we came in. There's some excellent chemistry between Paddy and Wagner as they feel each other up and strip down, kissing passionately while all the time checking the camera. Wagner goes down on Paddy first and this guy has got a great cock, Wagner can't get enough if it as he slurs and gags on it. Paddy is also naturally muscled and hairy, as is his playmate and both guys are studly and manly, tough and fit.
He hot stud-sex continues with Paddy taking the top role and fucking Wagner's tattooed ass. Wagner is big, stocky you might say, and his thick cock stays hard throughout this ass-ramming. He gets taken over the table football table, on the sofa where he sits on Paddy's dick, sliding down all the way, and where he gets onto his back so Paddy can gently slide his length all the way in before beginning his hard ramming again. He keeps this up for a great long while until he lets Wagner chew on his shaft again. He wanks himself off as he does so, so he shoots his cream while still with a mouthful of London Boy dick which he pounds into his mouth until Paddy is ready to cum.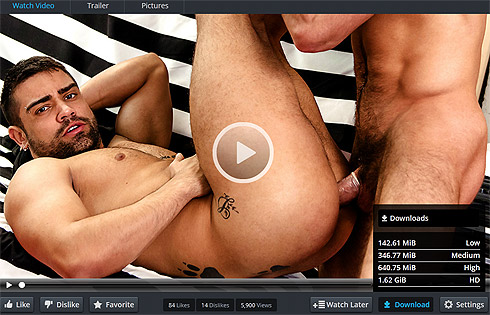 He comes into his palm, saving all his white jizz and milking his rampant dick. And then? Well, then we return to the story and the mystery. Paddy holds his cream filled palm up to the camera and the voyeur, Leo, looking on, tells him that they've 'got it.' Got what I wonder? The only way to find out is to scoot on over there and sign up, and in, to Men Of UK and find out.

click here to learn how to stream 1330+ gay videos for only $1